Execution-only protection sales are growing
In 2021 execution-only sales exceeded the combined might of aggregators Compare the Market, MoneySuperMarket, Confused and GoCompare.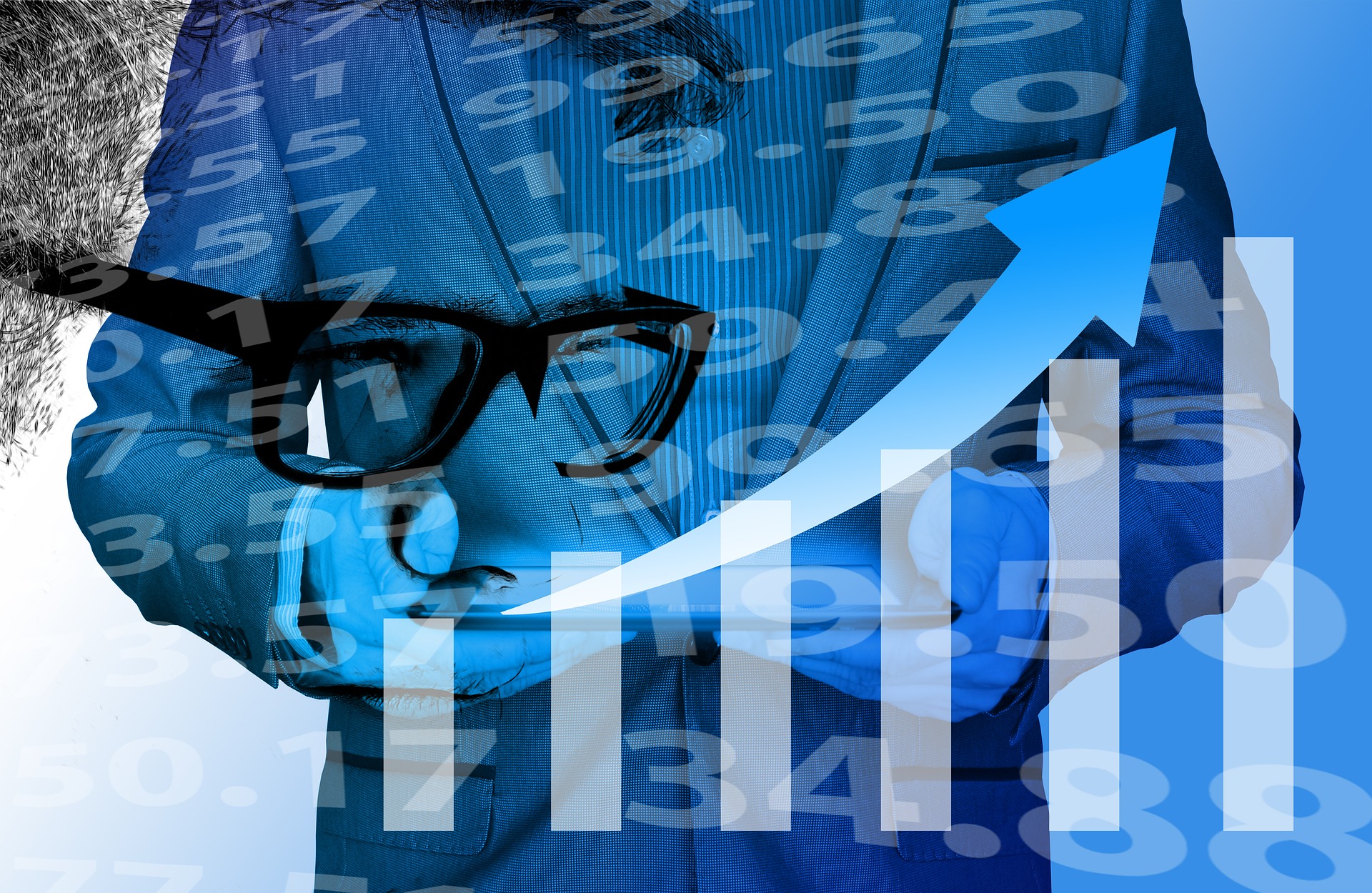 Part of a series on protection distribution.
Directly-authorised sales in 2021
In 2020 aggregator term sales were 92,304 and execution-only were 66,163. But in 2021 aggregator sales slumped to 68,243 (-26.1%) while execution-only grew to 85,085 (+28.6%). Execution-only had overtaken the might of the price comparison websites for term protection business.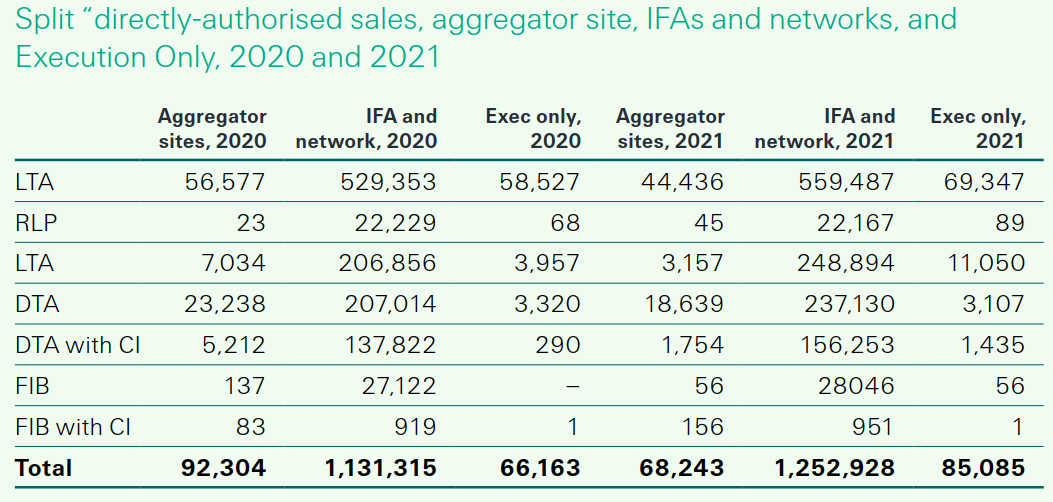 Source: Termwatch 2022 - page 27 (the second LTA above is LTA with CI)
In my experience the phrase "execution-only" tends not to be used for protection business, although given the growth perhaps this will change. What does it mean?
Advised, non-advised and execution only
| | | | |
| --- | --- | --- | --- |
| Advice type / Area | Information (1) | Guidance (2) | Specific recommendation (3) |
| Advised | Y | Y | Y |
| Non-advised | Y | Y | N |
| Execution-only | Y | N | N |
Notes:
(1) By Information we mean factual information. Information on execution-only protection sales is sparse, but MCOB text suggests that spoken or other interactive dialogue is permitted, so long as this is restricted to factual information about the protection contract or application process.
Summary: you can answer (some) questions but not ask, guide or advise.
(2) By Guidance we mean raising many areas such as the benefit level, term of a policy and even recommending that other benefit types are considered. Non-advised business can include:
… providing generic information recommending your client should buy household contents insurance (without mentioning a specific insurer or policy) that is unconnected with the sale of a contract would not be an advised sale.
Source: Professional Paraplanner
Summary: you can guide, ask and answer questions (e.g. to narrow down) but not advise.
Here's the status disclosure from Reassured, the UK's biggest protection broker:
What service do we provide? We offer a non-advised sales service, which means that we will not give advice or make any recommendations. We may ask some questions to narrow down the selection of products that we will provide details on. You will then need to make your own choice about how to proceed.
Source: Reassured Personal Life Insurance Illustration
(3) By Specific recommendation we mean that a specific product and provider recommendation is made. This is the distinguishing feature of advice.
What the regulator says
Added rather belatedly. The FCA's Understanding 'advice' and 'guidance' on investments probably applies to protection, although some lines such as "You will normally pay a fee for advice." are clearly investment-specific. Two areas struck me:
What are providers of the service responsible for? says that service providers are responsible for the accuracy and quality of what they provide. Additionally, advisers are responsible for the suitability of their recommendations. Of course that might be the hardest area to challenge.
Complaints about the service and access to the Financial Ombudsman Service suggests that, so long as they are regulated by the FCA, you may be able to refer your complaint to the FOS, whether or not advice was given. That opens up all kinds of possibilities.
Why would a consumer go down the execution-only route?
The value execution-only brings
If you know what you are doing, execution-only can save you a lot of money.
Do your internet research and you'll find Martin Lewis suggesting three "discount brokers" as producing the cheapest life insurance quotes.
These companies offer an execution-only service: they rebate 100% of their initial commission in return for a small upfront fee. The following table shows quotes for those companies and also "full commission" quotes from a leading IFA and from aggregator Compare The Market:
| | | | | | |
| --- | --- | --- | --- | --- | --- |
| Insurer | CAV | MOM | MOW | IFA | CTM |
| AIG Instant | 8.78 | 8.78 | 8.78 | 11.86 | 11.86 |
| Legal & General | 8.49 | 8.49 | 8.49 | 11.23 | 11.37 |
| Vitality Optimiser | 8.00 | 8.00 | 8.00 | 9.95 | N/A |
| AIG Your Life | N/A | 9.49 | 9.49 | 12.10 | 12.10 |
| Zurich | 9.71 | 9.98 | 9.71 | 11.99 | 11.99 |
| LV= | 9.92 | 9.21 | 9.92 | 12.66 | 13.22 |
| Vitality | 9.59 | 9.98 | 9.59 | 12.32 | N/A |
| Royal London | 10.36 | 10.54 | 10.36 | 12.92 | N/A |
Source: June 2022 quote - male non-smoker, born 30 Jan 1986, 200K LTA, 25 year term
Comparing the IFA and Money Minder (MOM) column shows that execution-only would have saved between 17% (Zurich) and 27% (LV=) of each premium, in exchange for a one-off fee of £25.00.
More than execution-only
Each company offers a range of services:
| | | | | |
| --- | --- | --- | --- | --- |
| Company | Execution-only | Guidance | Phone advice | FTF advice |
| Cavendish Online | Y (1) | Y (2) | Y | N |
| Money Minder | Y (3) | Y (4) | Y(5) | Y(5) |
| Money World | Y (6) | None? | Y (7) | N |
Source: June 2022 online research
Note 1 – Cavendish Online gives two options – pure fee or increased (but still discounted) premium. Both require a confirmation that you've received no advice, then an automated and online application process via insurers' extranets.
Note 2 – Cavendish Online offers light touch online help via simple links, but also more interactive automated guidance is available – with the ability to call at any time of course.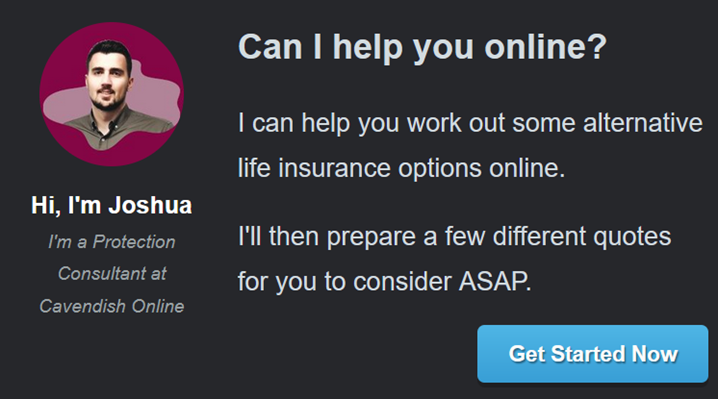 Source: online research - technology is provided by adviser.ai
Note 3 - Money Minder gives two execution-only options – pure fee or c5% increase to the premium. With the former you are responsible for printing off and completing all the paperwork - and it literally is paperwork! With the increased (but still discounted) premiums Money Minder will call you back and complete the application process over the phone.
Note 4 - Money Minder offers guidance via its Finance Navigator system. This helps you choose an appropriate policy term and sum assured (via a discounted cashflow calculation, although the guidance strongly points to Family Income Benefit). You'll need choose separate Navigators for Critical Illness and Mortgage Protection - no help on that choice it seems.
Note 5 - Money Minder offers phone-based financial guidance with discounted premiums and face-to-face advice with full commission premiums. It seems you can ask for the phone-based guidance to be upgraded to a full financial review.
Note 6 - Money World also offers execution-only options – pure fee or c5% increase to the premium. In both cases there's an automated and online application process via insurers' extranets.
Note 7 - Money World doesn't office advice itself, but phone-based advice is available via its partnership with Vita. Money World says "If you take out a policy with Vita we will receive some commission but we've reduced the amount to make sure you get a competitive premium."
In conclusion
That's clear then: we have full commission and advice or hugely reduced commission and execution-only. But the middle ground of non-advice, exemplified by the likes of Reassured, can be murky - with blurring at both ends. Non-advice has come under intense scrutiny and criticism from the likes of Lifesearch. The validity of that critique will be discussed in another article.