Protection Premiership 2000-2025
The term top 5 in 2025
This article presents the results of a survey carried out in Q4 2021. The questions amounted to "who will be the term top five based on 2025 sales?" My personal views (which are broadly consistent with the survey answers) are set out in the last section.
The 10 December 2021 Cover Magazine story that Bain Capital's acquisition of LV= has fallen probably means that it's less likely that LV= will have a successful independent future.
Term sales in recent years
Let's start by reviewing term (= life term and accelerated CIC) sales in recent years:

Source: TermWatch
Perhaps for the purposes of predicting the top 5 in 2025 the most relevant information is the top 5 in 2017 and 2020 being identical, with Aviva and Royal London trading places.
With 2020 sales over 250% of their nearest competitor perhaps L&G's next target should be to take a greater share than their next three competitors (gratuitous football analogy coming up):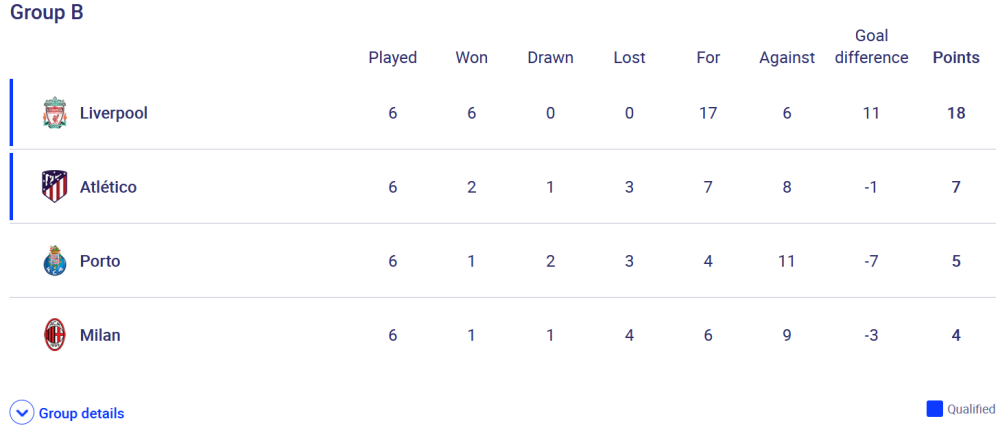 Source: UEFA Champions' League - Liverpool dominate "group of death"
The survey
The survey question was "Will the companies below be in the top 5 for life term + accelerated CIC, based on 2025 sales?" I then listed then current top 5 (Legal & General, Royal London, Aviva, AIG and Zurich) followed by a range of companies in alphabetical order (Aegon, Beagle Street, Canada Life, Cirencester Friendly, Guardian, HSBC, LV=, OneFamily, Scottish Widows, Vitality Life).
The final option was "ANOTHER company not listed above?" (Aside: I forgot to include The Exeter as a name. No one identified them as a potential top 5 term player.)
The survey was one of my better read posts, gaining around 2800 "views" - whatever that means! This resulted in just 28 survey responses.
Survey results
Views on insurers' likelihood of being in the top 5: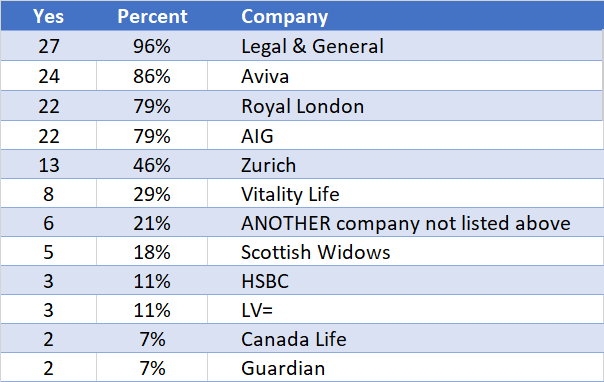 Source: Q4 2021 survey (n=28)
Who will remain top 5?
Almost everyone believes L&G will remain top 5 (*)
Aviva, Royal London and AIG had strong support.
Less than half back Zurich to remain in the top 5.
(*) The person who believed that L&G would drop out of the top 5 also thought Aviva and Royal London would suffer the same fate. The current top 3 would be replaced by Guardian, HSBC and LV=.
Who might be new entrants?
A quarter thought the top 5 would be the same as in 2020 i.e. with the only change being market share, rather than names.
There was support for Vitality and Scottish Widows.
Some thought a genuinely new name would be top 5.
Few favoured specialist challengers such as Guardian and LV=.
Comments from respondents
Most speculatively (i.e. not reasoned):
The market will change with new entries and disruption.
Total speculation. 2 will remain. 2 existing will move from top 10/15 to top 5. 1 brand new entrant could be in top 5.
Named companies:
It would be good to see someone come out of nowhere. Maybe a YuLife, though I suspect it's too much ground to make up!
A reinsurer (directly e.g. IPTIQ), or by stealth (e.g. Pac Life Re via Scottish Friendly / UW Me).
It was tempting to say that nothing will change but I do wonder if Scottish Widows' much stronger proposition will grow their market share. Ultimately, though, that will need better use of their potential distribution capability through banking channels.
I wonder about the sale of AIG and what its new owner wants to do with it.
Vitality may now be more interested in other products. They haven't grown their CI new sales in a while, and they seem more focused on GI products now. Maybe there is a ceiling when you build your business around innovation and they have reached or are close to it?
On banks:
Not sure about bancassurers in the UK, it will still be a distribution channel for Spain/Italy. I would expect Aegon to divest the UK business so won't be around.
With some relief:
Interesting question Andrew and I am glad the results will be anonymous.
Here endeth the survey
What follows are personal views, which support my best guess: that Zurich will be replaced in the top 5 by Vitality or Scottish Widows. But for me this is not just chat. I offer you:
Protection can be (and is) such a force for good, but
we can do better
in 2022.
My personal views
I'll start with the existing term market, first with prospects for those already in the top 5 then for those outside this group. Then I'll consider whether non-term players could break through.
Companies in the current term top 5
Current top 5 summary
I believe the prospects for L&G, Royal London and AIG (ownership permitting) are good. The trend seems not to be Aviva and Zurich's friend and I agree with the survey views on the latter.
L&G will take some moving. They were top of the CIC market in 2000 and leapfrogged Aviva (then Norwich Union) in 2003, building a strong term pricing capability. They have remained top for term ever since. L&G is probably the least complacent and most ambitious insurer I know.
Royal London owned Scottish Provident and Bright Grey, but retired those brands. Some think Royal London is all about quality products rather than price. But 2020 saw a large growth in volume. They may be using price obfuscation in their optimization.
Aviva confuses me. There seems to be no reason why they shouldn't be a top 3 player - or even rival L&G - but they have lost significant volume, despite the takeover of the (formerly top 5) Friends Provident. If they take no action is stability or further decline the result?
AIG gained rapid market share as Fortis and then Ageas, led by Martin Werth and largely staffed by an ex-Munich Re team, who have subsequently moved on to great things. After the AIG takeover they continued to grow. Have they now plateaued? What will AIG Life global changes mean?
Zurich is is the most likely to exit the top 5, says the survey. I agree. Uniquely for term players (even beyond the top 5) Zurich avoids significant reinsurance. This has practical, financial and risk implications. Goldilocks Pricing 2020 suggested Zurich's life term pricing was uncompetitive.
Term challengers
I define challengers as those in the term market, but not top 5. There are several players with other priorities and who have not been genuine protection challengers for many years. Why bother?
Challenger summary
The three names below - particularly the first two - could break through to the top 5. But they've had 3-7 years to do so, so something would have to change to achieve this.
LV= probably has no long term future as an independent entity following the Bain-related
announcement
. That's a real shame, but I don't think they will be the last.
Vitality Life can genuinely claim to have changed the market since its first appearance in 2014. While critical illness remains its flagship product, Vitality fell back from 3rd in 2016-2018 to 5th for CIC in 2020. I cannot fathom why Vitality (and others!) have not yet mounted a real life term challenge.
Scottish Widows was historically a strong performer, based largely on bank sales. It talked about rejoining the advised market since 2012, but progress since its 2016 re-entry seems slow to my eyes. Can Widows' new protection director restore its former glories? What a great challenge to have!
LV= probably has no long term future as an independent entity following the Bain-related announcement. That's a real shame, but I don't think they will be the last.
Guardian has like Vitality "built its business around innovation (survey quote). But being product-led is low in my list of success factors: I don't think the current emphasis will succeed.
New term entrants: a Friendly surprise?
New term entrant summary
I hold perhaps an initially puzzling belief that the prospects for any new entrant - including the Friendly Societies below - should be good, but that a successful (i.e. top 5) entrance is unlikely.
Three candidates are Cirencester Friendly and OneFamily (both of whom I believe may be developing a "beyond Income Protection" protection offering) and The Exeter (who already have one).
Others could enter: YuLife might extend its group protection range, Beagle Street could dip more than a toe into the IFA market or [your favourite start up] might be the next big thing.
Prospects for a new entrant should be good… by successful I mean a profitable top 5 presence within 3-5 years. This was achieved by (re-imagined) Scottish Provident and Swiss Life in the 1990s. As well as appetite and drive, such an entrant needs protection ninjaship.
According to reinsurers, this is often missing. Start-ups led by entrepreneurs can have technology and even funding, but lack the basic ingredient of deep substantive expertise: they don't know what makes a protection business really succeed.
Source: Summary of a reinsurer's views
… but a successful entrance is unlikely. As hinted at above, there is plenty of opportunity to under-deliver. Arguably this is the typical experience of new entrants over the last 10 years. Some might get to top 5, but "delivery at pace" (thanks, L&G) could instead target faster success. Average won't cut it.
Special case: Beagle Street
Beagle Street is part of the South African-owned BGL Group - a leading digital distributor of insurance and household financial services who also own Compare the Market. Beagle Street have - I believe - a dominant position in the aggregator market, but have shown no appetite to extend to the IFA market, casting IFAs as dinosaurs way back in 2014. Frankly I'm surprised they don't want more.
Where next?
My aspiration is to extend this series, giving:
Separate coverage of income protection.
Separate coverage of whole of life.
Views on previously influential protection insurers e.g. Scottish Provident and Bright Grey.
But first I really must turn to Goldilocks Pricing 2021.